Badgers are protected in law by the Protection of Badgers Act 1992 (passed to consolidate law previously contained in the Badgers Act 1973, the Badgers Act 1991 and the Badgers (Further Protection) Act 1991) and so are their setts (setts include entrances, tunnels, and underground chambers).

Licences may be granted by Defra to kill badgers under certain circumstances (to supposedy control bovine tb or for building developments), but generally it is illegal to harm them in any way.
There is no excuse or exception in law to killing, injuring etc a badger based on perceived or actual nuisance value such as damage to a garden or as a 'pre-emptive' action to prevent further damage.
Under the Protection of Badgers Act 1992, it is an offence in England and Wales (the law is basically the same in Scotland and Northern Ireland) to:
Wilfully kill, injure or take a badger (or attempt to do so).
Cruelly ill-treat a badger.
Dig for a badger (anyone digging at or into a sett is likely to be committing a wildlife crime).
Use badger tongs in the course of killing, taking or attempting to kill a badger.
Intentionally or negligently damage or destroy a badger sett, or obstruct access to it (any hunt or badger baiter blocking a sett is committing a wildlife crime).
Cause a dog to enter a badger sett (this includes terriers associated with hunts and any dog let off a lead in badger habitat that may inadvertently damage, enter or otherwise interfere with a badger sett).
Disturb a badger when it is occupying a sett.
Use gas to kill a badger in its sett.
Sell or offer for sale a live badger or to possess a live badger.
Mark, ring or tag a badger without a licence.
Catch/trap a badger in a snare (or any form of trap without a licence from Natural England).
Uses for the (licenced) purpose of killing or taking a badger any firearm other than a smooth bore weapon of not less than 20 bore or a rifle using ammunition having a muzzle energy not less than 160 footpounds and a bullet weighing not less than 38 grains.
In Scotland badgers and their setts are protected under the Protection of Badgers Act 1992 as amended by the Wildlife and Natural Environment (Scotland) Act 2011. The law includes 'reckless' damage to a sett. Penalties In Scotland for offences against badgers were increased by the Animals and Wildlife (Penalties, Protections and Powers) (Scotland) Act 2020 (see below).
Badgers and their setts are also protected under the Wildlife (Northern Ireland) Order 1985, which rules that it is an offence to disturb these animals or obstruct access to their place of refuge, or destroy or damage anything which conceals or protects their place of refug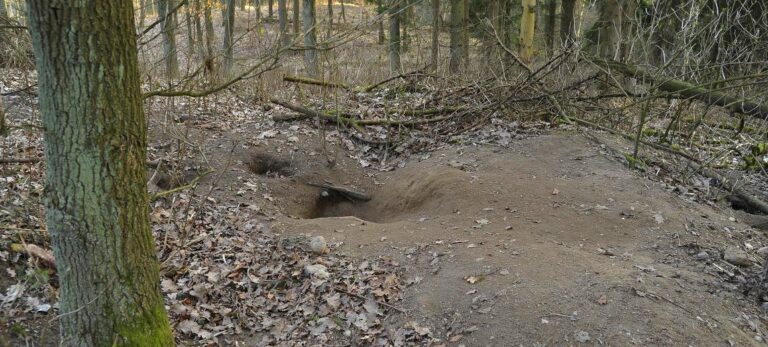 Badgers have been persecuted in Britain for centuries. Badger baiting (setting dogs on badgers for 'sport') was once far more widespread than now but sadly it does still take place, and this is the principal justification for their protection in law. For more information go to our page on Badger Persecution. For more general information go to our Badger Facts account.