As has been widely reported (including by Protect the Wild), a peaceful protest was planned for today outside Wiltshire Police HQ in Devizes. Sabs and campaigners are furious that Wiltshire Police have recently announced Cheryl Knight as its new recruit to their Rural Crime team.
Hunt saboteurs have highlighted Knight's links to both the Beaufort Hunt and the notorious Avon Vale Hunt (AVH). She has posted photos of herself on Facebook as a field rider for the Beaufort, and she has celebrated at least one of the Avon Vale's notorious Boxing Day meets in Lacock, a National Trust-owned village just ten miles down the road from Devizes.
Her support of the Avon Vale is particularly disturbing given that the hunt is being investigated by her own team after footage filmed by a hunt supporter of the AVH digging out foxes was uploaded to a WhatsApp group, leaked, and went viral.
The BHSA, the self-described 'governing body' of hunting set up after a series of disastrous missteps by hunts and hunters themselves threatened to bring the 'smokescreen' of illegal hunting down, rapidly threw out the Avon Vale Hunt in an effort to 'protect' themselves and their members. They tellingly added in their 'Final Sanction Decision" against the AVH that "Given the content of the video clip…we consider that this was unlikely to have been an isolated incident".
As many people have said many times, hunts set out to break the law every time they leave the kennels with dogs trained to kill foxes. It's rare though that hunting's representatives state it for the record.
Why put Cheryl Knight forward now?
Why Wiltshire Police (who were placed in 'special measures' for long-term policing failures in July 2022, a decision reiterated in Dec 2022 when they were told to remain in special measures as their performance was still deteriorating) decided that now was the right time to announce such a sensitive and inappropriate appointment we will never know, but at least two hundred people gathered outside their HQ this afternoon to make sure they understood how badly their choice had gone down.
The force, under intense scrutiny already of course, clearly decided that it would be best to accommodate the protest, allowing attendees to group on the grass in front of their HQ and deploying 'friendly' Liason Officers (who were under instruction not to discuss Knight's appointment or the force's support for hunting) to chat with the crowd while uniformed officers stood further back to stop any 'storming of the Capitol'.
Peaceful protest
While the protest was necessarily somewhat short-notice, it drew fantastic support from local residents and especially from sab groups and campaigners who came to Wiltshire from as far away as Cornwall and London.
People gathered to support wildlife and each other. It was noisy, passionate, and disrespectful of a force that deserves zero respect when it comes to its blatant support of illegal hunting and the Avon Vale Hunt in particular (as noted across social media many times over many years), but as always it was law-abiding.
Kudos then (in alphabetical order and sincere apologies to anyone not recognised at the time) to Action Against Foxhunting, Cirencester Illegal Hunt Watch, Cotswold Hunt Sabs, the Hunt Sabs Association, North London Hunt Sabs, West Cornwall Hunt Sabs, and Wiltshire Hunt Sabs.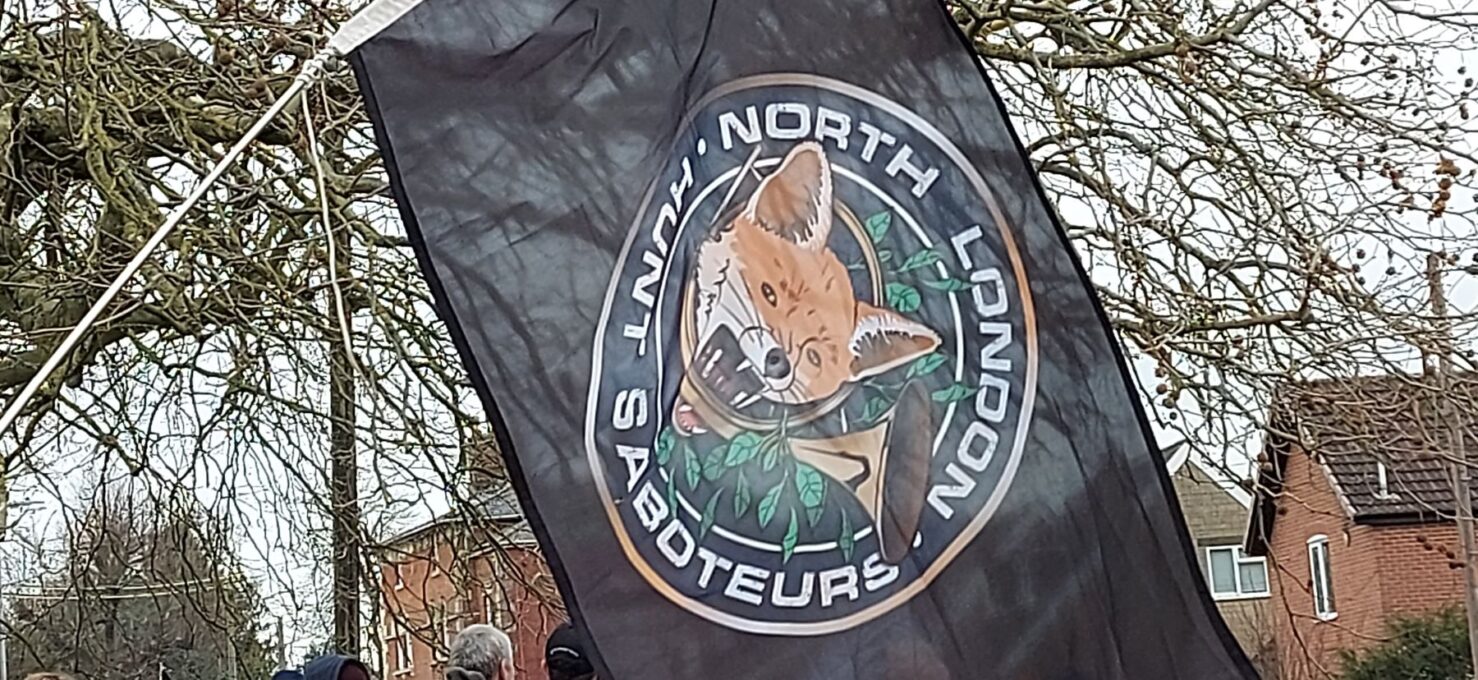 Will Wilts Police take notice?
Will Wiltshire Police take any notice of a protest like this? Neither they, the Wiltshire Police and Crime Commissioner Philip Wilkinson (who last year described sabs as 'balaclava-wearing thugs'), nor local (Tory) MPs including Danny Kruger (Devizes), Michelle Donelan (Chippenham) and James Grey (North Wiltshire), have ever appeared to take illegal hunting seriously.
At a minimum, though, it will be another policing failure if having now seen and talked with some remarkable animal lovers up close while having to acknowledge at the same time that it is the hunts they've previously supported that break the law, Wiltshire Police were not to look to establish better relationships with local sab groups.
Time will tell, but this troubled Police Force can certainly be under no illusions that they and Cheryl Knight in particular will be intently watched for even the smallest signs of bias towards illegal hunting. Should any of them be found to be complicit with illegal hunting it's fair to say social media will light up and this protest will have been the very least of their problems…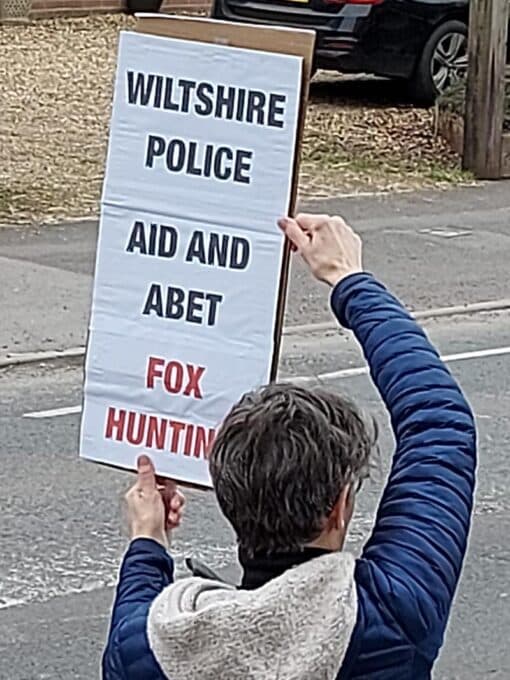 Wilts Hunt sabs have an excellent Twitter thread with many photos of the event starting here.
Photos Charlie Moores. And as a Wiltshire resident myself, and one who is incredibly grateful to the heroic efforts of sab groups over many years to strip credibility from a local hunt at last exposed and acknowledged by its own governing body as an Organised Crime Gang, I'd like to take the opportunity to thank you for caring and – as always – for being there for wildlife.