Tory MP Jacob Rees-Mogg is renowned for his pro-hunting views, believing that it's perfectly humane for hounds to tear up foxes.
Time and time again, his family has shown its support for criminal fox hunters, riding with the Mendip Farmers Hunt (MFH), hosting its meets, attending its balls, and – in the case of Rees-Mogg's wife Helena – previously being a master of the hunt. Protect the Wild takes a closer look at the North East Somerset MP's complicity in illegal hunting.
With an estimated family net worth of more than £100 million, Eton-educated, ultra-conservative Brexiteer Jacob Rees-Mogg is often called an "MP for the 18th century". So it should come as no surprise that Rees-Mogg is also a vital politician to keep in parliament for the pro-hunting lobby, which is eager to get the Hunting Act repealed. The MP considered running for prime minister when Boris Johnson was forced to resign, and hasn't ruled out running for Tory leader if Rishi Sunak is also forced to step down in the future. One MP said that Rees-Mogg is the man who can "reset the Conservative Party into something more conservative again."
Propping up the Mendip Farmers Hunt
We spoke to Mendip Hunt Sabs, who are on the ground, week in, week out, monitoring and sabbing the MFH. They told us about the Rees-Moggs' connections to the hunt:
"The Rees-Moggs allow the Mendip Farmers to meet and hunt on their land, and have previously hosted them at their Somerset residence Gournay Court. This assistance is not surprising given that Helena Rees-Mogg was a hunt master for the Mendip Farmers between 2012-2013."
The Independent reported in 2019 that the Rees-Moggs hosted a meet when a badger sett was blocked, illegal under the Protection of Badgers Act. And in 2020, activists leaked a document, found on a hunt member's phone, which listed Jacob, his wife Helena, and his brother Tom as 'Mendip Hunt Followers'. The activists published the Rees-Moggs' phone numbers and addresses, along with those of the other hunt supporters on the list. Following the leak, Jacob Rees-Mogg called those who leaked the document a "rentamob brigade".
Helena Rees-Mogg often takes their children out as field riders with the MFH. The sabs said:
"In many ways, the Rees-Mogg family are effectively propping up the desperate and failing hunt business. A high percentage of field riders
on any given day is comprised of Mrs Rees-Mogg and some of their many children."
Indeed, the MFH is known to be struggling financially, with Hunting Leaks stating that it is "close to financial ruin", so support from the millionaire Rees-Mogg family is vital. The sabs told us that the family didn't attend one of the most recent MFH meets, and because of this the hunt could only muster up three field riders!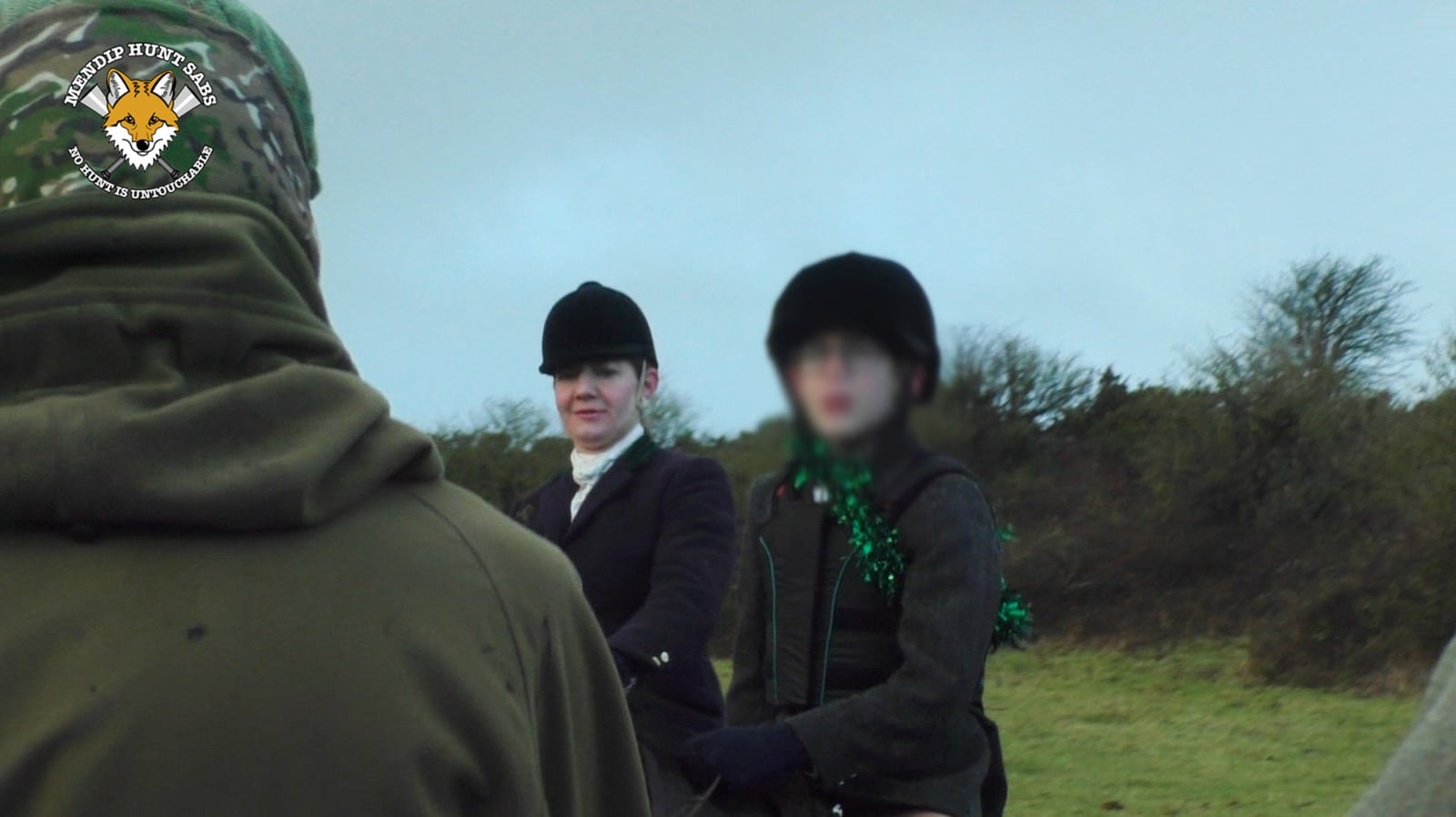 Questionable parenting
It's highly concerning that the Rees-Moggs think nothing of exposing their young children to animal abuse, indoctrinating them at impressionable ages and normalising the ripping up of foxes as 'sport'. Mendip Hunt Sabs said:
"We believe it is wholly inappropriate for the family of our local MP to support and partake in this illegal activity and associate with their thugs. Even worse, they take their young children out, who have frequently been witness to unlawful and distressing events. For example, Helena Rees-Mogg and one of their children were present on Boxing Day when a fox went to ground in a badger sett after being chased over a kilometre by hounds. They rode right past the patch of gorse where the hounds were marking the fox to ground. This incident is now subject to a police investigation."
The sabs continued:
"On another occasion, one of their teenage children was seen illegally riding on an overloaded terrier quad (which also had its number plate obscured) with two other men on a public road. We have seen foxes illegally hunted on several other occasions when the Rees-Moggs were in attendance, including in the barbaric cub hunting season."
'Full support'
Jacob Rees-Mogg has made it clear that if his wife and children want to continue riding with a renowned criminal gang, he will wholeheartedly stand by them. Back in late 2021, the MP was asked by a constituent what he thinks of his wife's continued involvement with the hunt. He replied:
"What my wife does or does not do is private but whatever she chooses to do has my full support."
Mendip Hunt Sabs told Protect the Wild:
"The fact that our MP claims to give "full support" to his family taking part in an illegal activity and encourages minors to do so as well should be a major concern to our fellow constituents. How can anyone have faith in the law and the parliamentary system when those in government so openly disrespect and break those laws?"
'Criminal thugs'
Anyone who follows news about fox hunting will know that the MFH is renowned for being one of the most violent hunts in the country.
The sabs told Protect the Wild:
"The Mendip Farmers Hunt are a gang of criminal thugs who frequently resort to violence in an attempt to deter sabs from documenting or preventing their persistent illegal fox hunting. In the past two years, we have secured seven convictions against them for violent crimes and have a number of cases still ongoing."
These convictions include MFH supporter Christopher Hurden, who pleaded guilty to assault and criminal damage in 2021; hunt thug Ashley Louth, who was also found guilty of criminal damage in 2021 after slashing sabs' tyres; and MFH's former whipper-in, Tim Ingram, who was found guilty of criminal damage in late 2022 after he damaged a sab's vehicle while illegally driving on the back of a terrierboy's quad bike.
The hunt also murders its own hounds. Protect the Wild has previously published that the MFH killed 13 hounds between April and June 2020. And according to Hunting Leaks:
"This is a hunt which have opted to put down significant numbers of hounds for "business reasons", and aim to reduce kennel expenditure as much as possible for the poor souls remaining living there."
Support the hunt sabs on the ground
With an MP whose family plays an active role in a known criminal hunt, and with a Hunting Act that is so full of loopholes that hunts continue to get away with murder, it would be easy to feel despair. But there is, of course, hope, even if Rees-Mogg and his cronies hold a lot of power. Hunts across the country are frequently folding or merging, and this is largely thanks to those on the ground who are exposing their criminal ways. Police are, of course, biased when it comes to hunting, often turning the other way when they should be making arrests. Despite this, we are seeing a lot of hunt arrests making it to court, which, in turn, loses hunts crucial supporters.
The Rees-Moggs no doubt think their role as field riders makes them untouchable when it comes to hunt prosecutions. But they should be vigilant, too: after all, those who host hunts can also be prosecuted under section 3 of the Hunting Act. And hunt sabs will be watching the MFH's every move.
You can support Mendip Hunt Sabs by buying them a coffee here ko-fi.com/mendiphuntsabs or by sending a donation directly via PayPal here paypal.me/mendiphuntsabs
Call or message Mendip Sabs on

07501 192235

with any tip-offs you have about hunt activity in the Mendip area.