One of the most popular of all British wildlife species, the hedgehog is also one of the most easily recognised with cone-shaped faces, short legs, and bodies covered in thousands of spines. Despite being much loved, the wild hedgehog population has declined by over 90% in the past 50 years: the loss of foraging and nesting habitat, barriers stopping them moving around our gardens, and the over-use of pesticides killing their food are all hitting our spiky friends hard.

We love all animals at Protect the Wild and simply cannot sit back and watch one of the UK's most iconic species slide towards extinction.
By adopting a hedgehog with Protect the Wild you will help support vital educational and awareness work surrounding the plight of the hedgehog. In addition, your adoption will help support vital rehab work as we collaborate with rescuers working tirelessly to return injured and orphaned hedgehogs back to the wild.
As an adopter, not only will you be helping fund vital work, but you will also receive an exclusive Protect the Wild adoption pack including cuddly toy, glossy photo, and an information fact sheet. As an adopter we will also keep you up to date by email on all our latest campaigns and the important work we are doing to protect the wild.
Your adoption will provide vital funds as we campaign to end wildlife persecution and hunting and shooting in the UK.
Funding undercover investigations to expose wildlife persecutors.
Pressuring and influencing decision makers to strengthen legislation and protect wildlife.
Campaigning to ensure the plight of declining wildlife is on the mainstream agenda.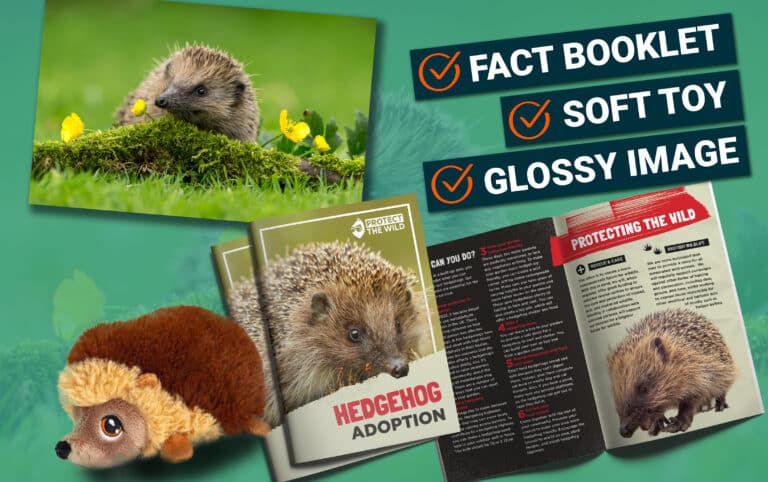 We will process and send your order within five working days and would normally expect it to arrive within seven working days.
 Please note – we cannot hold orders for delivery on a specific time.
Orders do not need to be signed for. A card will be left if you're unavailable.
Please be patient when waiting on your hedgehog adoption pack. We are a very small team and are working as hard as possible to get them sent out. Thank you for your patience.