Mobile phones and the Law
Mobile phones are ubiquitous and incredibly useful for RECORDING and REPORTING wildlife crime scenes for example.
The law is very clear about using phones while driving a quad bike, for example, but phones are regularly seen at hunts – used both by sabs and monitors to photograph or record the hunt and conversely by hunts and (as in the image above) their supporters to record sabs and monitors.

Note, the driver of a moving vehicle CAN NOT use a mobile phone under any circumstances.
Are we allowed to take images of other people, or can we legally stop someone taking images of us?
A key point (which applies equally to cameras like GoPros or bodycams) is that there is no current UK law preventing people from taking photographs in public/in a public place – even of private property or individuals on private property – but if taking photographs while ON private land (technically) the land owner's permission is required.
In terms of then publishing an image or video any breaches of law could depend on considerations of whether an individual is being defamed (ie their good reputation is harmed), their right to privacy is being breached, or whether publishing is in the public interest (which itself is very loosely defined and roughly means "

the welfare or well-being of the general public

").
A member of the Wynnstay Hunt reaches into a car to take a photograph. Image Cheshire Monitors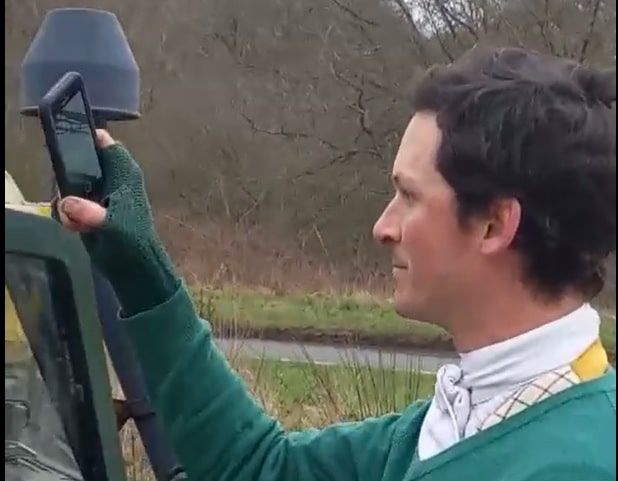 Huntsman Charles Carter of the Royal Artillery Hunt photographing monitors  Image Salisbury Plain Monitors