The British Hound Sports Association (BHSA) has permanently expelled the Avon Vale Hunt. The body had previously suspended the hunt after gruesome footage showed hunt members digging out two foxes. Hunt sabs say that this is "the end of the Avon Vale as they exist."
The video, which was leaked and published by the Hunt Saboteurs Association and ITV News on 8 February, was likely filmed by a member of the hunt. Protect The Wild previously said:
"The video shows three men leaning into a freshly dug hole in a field, with one man pulling a terrier out. The video pans around to show hunt masters, staff and field riders present, just as another man pulls out a fox. The fox is dropped into the pack of hounds just as a second fox escapes from a hole, causing the pack to then chase after the second fox. This leads the person filming to excitedly shout: "Brace! There's a brace!", with 'brace' referring to two foxes. The other members of the hunt are then heard laughing."
Constant pressure from sab groups
We spoke to Wiltshire Hunt Sabs, who have relentlessly sabbed the Avon Vale for years. They celebrated the news, saying:
"Good riddance to the Avon Vale Hunt, one of the most violent and prolific fox hunts, which has enjoyed the protection of our local police and politicians alike for too long now. Sabs from Wiltshire, Bath, Reading and Bristol have sabbed this hunt for years, and Wiltshire and Bath sabs in particular have campaigned off the field as well as sabbed them on it. Undoubtedly had it not been for the constant pressure and publicity generated by our collective sab groups, this hunt could well have survived this controversy. We take delight in the downfall of these scummy bastards and our role in it."
After hearing that Avon Vale hunt staff had been spotted out with the Mendip Farmers Hunt, we asked Wiltshire Sabs to clarify whether this was the case. They said:
"Avon Vale riders surely will simply jump to the Beaufort or Mendip Farmers, depending on their respective incomes and social status, as well as the hunt lackeys who dig for them, such as convicted badger sett criminal Ben Pethers. Pethers was recently spotted throwing his lot in with that other scummy hunt, the Mendip Farmers."
Pethers pleaded guilty to interfering with a badger sett in 2013, alongside joint hunt master Stuart Radborne. They were two of five Avon Vale members also charged under the Hunting Act, along with disgraced Wiltshire councillor and ex-Avon Vale hunt master Jonathon Seed.
As for the Mendip Farmers, it too has made national headlines recently after its hunt master was caught on camera whipping a hound. The culprit, George Pullen, has a reputation for being repeatedly volatile.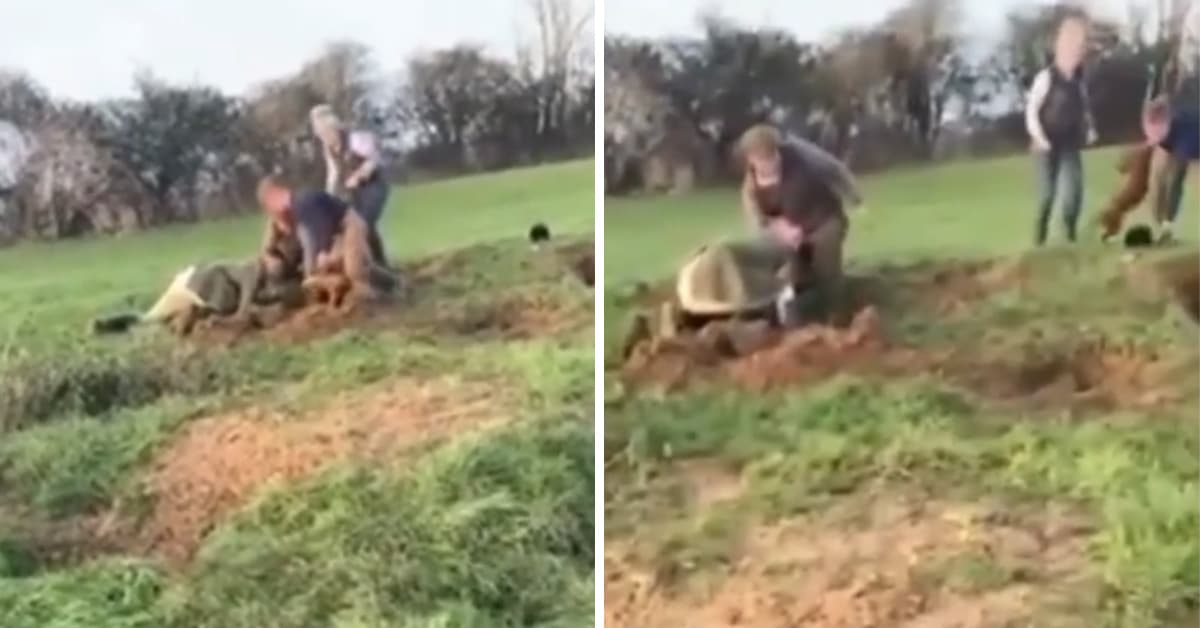 Reputational risk
Wiltshire Sabs aren't too worried about the Avon Vale continuing as an unregistered pack. In order to hunt in the future, the Avon Vale will be reliant on the generosity and cooperation of a number of people, including those who finance them and those who give them land to hunt on. The sabs feel that none of these people are likely to risk their reputations in order to help the hunt. The sabs said:
"There is an understandable concern that the Avon Vale criminals will try to continue to hunt as a rogue pack, unregistered and uninsured. The hounds are kennelled at the expense of four businessmen including Charles Bartholomew, who's the chairman of Wadworth Brewery, and Sir James Fuller of Neston Park Estate, who's also chairman of Fullers Pubs and Hotels – so we don't know how they'd feel about a hugely negative media campaign should they assist to facilitate the rogue hunt."
The sabs continued:
"Then there are the landowners and farmers, who currently offload their fallen stock at the kennels, in return for land to hunt. Would they really risk the negative publicity and potential convictions for allowing wildlife crimes on their land?"
All eyes on Avon Vale hunters
Wiltshire Sabs said that numerous MPs, councillors and police officers have assisted the Avon Vale with its criminal activity over the years, funding, riding and supporting them. Indeed, Wiltshire Police has just recruited Avon Vale supporter PC Cheryl Knight onto its Rural Crime Team. One of Knight's main remits will be to help investigate crimes under the Hunting Act.
So, even if the police won't keep a close eye on riders and staff from the Avon Vale, hunt saboteurs on the ground certainly will. Wiltshire Sabs said:
"For those vile hunters that simply jump shit to the next hunt, we say, we will sab you there, too."
Support the sabs on the ground. You can donate to Wiltshire Hunt Sabs here.
Wiltshire Sabs are holding a protest at Wiltshire Constabulary headquarters to protest the appointment of its new fox hunting PC. They want you to join the protest. Find out more here.
Featured image of Avon Vale Hunt via Protect The Wild